Eccoci con un rumor interessante. Parliamo del personaggio di Donnie Yen, noto attore cinese con più di 60 film nella sua carriera(Blade II, Highlander: Endgame, 2 cavalieri a Londra, Yip Man, ecc…).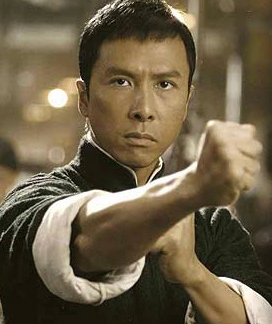 Invito coloro che non vogliono conoscere i dettagli sul film a fermarsi qui.
Lo vedremo il prossimo Dicembre in Rogue One a Star Wars Story.
In questi giorni Donnie Yen parlando con un reporter di The Hollywood Reporter ha dichiarato :
I am very proud to be the first Chinese actor cast in Rogue One. It was a good and benevolent character.

I felt like I was in a theme park everyday when shooting Rogue One in Pinewood Studios in Britain. I have learned and experienced a lot.

Sono veramente orgoglioso di essere il primo attore Cinese in Rogue One. Questo personaggio sarà buono e benevolo.

Mi sentivo ogni giorno come se fossi in un parco a tema quando giravamo Rogue One negli Pinewood Studios in Inghilterra. Ho imparato tanto e anche sperimentato tanto.
USA Today in un suo articolo dichiara:
Yen è già entrato nel cono di segretezza di Star Wars. Tutto quello che si riserva di dire sul personaggio è che sarà definito un "personaggio importante", si è divertito a interpretarlo  e si metterà molto in azione.
Abbiamo notato anche che attraverso la foto ufficiale pubblicata per Rogue One a Star Wars Story, il personaggio interpretato da Donnie sarà cieco.
Nel mese di Agosto 2015 ha inserito nel suo profilo di istagram una foto(qui sotto) che poi è stata rimossa. Qualche casco gli permetterà di vedere?
Questo probabilmente è il personaggio di cui abbiamo più informazioni rispetto al restante cast del film. Sarà realmente così importante? Sarà una sorta di maestro per il restante gruppo?